Topics 2002
Mankind in the Midst of Change
Peace Message

Lars Dahlberg

Honorary-President of F.I.C.C
Following the tragic incidents of September 11 2001 the whole world has changed. Nearly all of mankind has signed up to the war against terrorism. Methods of fighting this war may be varied and fighters dissimilar, but the goal for everyone is the same - lasting peace, brotherhood and friendship regardless of race and religion between all the peoples throughout the whole world.

Today it is more important than ever that our worldwide federation should make its contribution to the mutual battle for a better tomorrow. So let us do this in our traditional way by making all of our future rallies and meetings - big or small, domestic or international - events where friendship and mutual confidence between peoples, countries and continents can flourish. As we all know this has been our primary guideline and most important target since the earliest days of our federation.

Dear friends - may our common motto be "Achieving a better tomorrow through friendship between people".
The 64th International F.I.C.C. Rally
Unforgetable Rally in Korea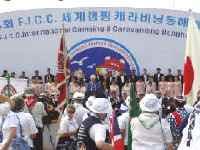 Korea Camping & Caravanning Federation hosted the 64th F.I.C.C. International Rally from May 17 to 27, 2002 in Tonghae, Kangwon province. The rally site is on the Mang-Sang coast near to a summer holiday resort. The newly built camp site has a lot of modern cottages in which foreign campers enjoyed their comfortable stay. There are also over one hundred brand-new caravans which have been imported from Germany specially for the rally. And eight of them were brought by the Cross-Continental Tour Team which consisted of eight couples of FICC members. Total 2,968 people from 23 countries enjoyed the wonderful programs of the absolutely top quality, incredible beauty of the Tonghae"(East Sea) and various cultural events offered by local citizens. Thus the rally was for all participants unforgettable one.
"Let's Go Autocamping! Outdoor 2002"
Traditional outdoor festival in Japan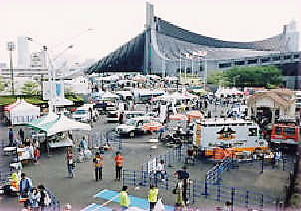 Japan Autocamping Federation held "Let's Go Autocamping! Outdoor 2002" rom April 12 to 14, 2002 at the open space in front of the National Yoyogi Stadium. About 60 companies from the fields of camping utensils, automobiles, campsites, etc. were present for exhibition, visited by a great number of people. On the main stage set up in the center of the place, various programs were performed, such as a talk show, a classroom for family camping and Hawaiian band & hula. Also a special area for new types of sport was provided aiming at the expansion of the outdoor leisure. Here a lot of children challenged disk golf, target ball, kick skater and so on.
Guidelines for Disaster Control on Campsites
Joint research project by Japan,Taiwan and Korea
The Commission continued the research project on campsites which will act as shelters in case of emergencies like earthquake. Such campsites may be essential in countries that are located in or along the volcanic zone in the world. So the Commission elaborated "Guidelines for disaster control on campsites".
"Guidelines for Disaster Control on Campsites"
Asia-Pacific News No.7
Peace Message" from President of F.I.C.C.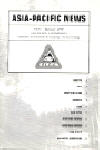 The "Asia-Pacific News" No.7 was published in January. The contents are "Peace Message" contributed by Mr.Lars Dahlberg, President of F.I.C.C., several reports and information about the F.I.C.C. rallies as well as Asia-Pacific rallies, plenty of interesting topics in Asia-Pacific region. A lot of copies of this annual magazine have been delivered not only to all F.I.C.C. members but also to authorities such as embassies, consulates, tourist boards.
New Organization in China
First and official in China
The Federation of Camping and Caravanning of China was established in Beijing on December 1, approved by the Chinese government.
The 11th National rally in Australia
Japanese anthem played
The 11th National rally in Australia was held from 28th December 2001 to 6th January 2002. The rally was participated in by about 700 people in 314 caravans and 38 cabins which covered all states of Australia, Tasmania Island, New Zealand and Japan. To a great surprise of the participants from Japan, the Japanese anthem was played in the opening rally.