Topics 2007
The 11th Asia-Pacific Rally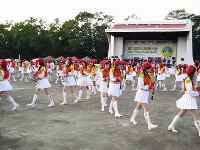 The 11th Asia-Pacific Rally was held at Wei Chuan Pushin Ranch in Taoyuan City, Taiwan from November 23 to 25, 2007. The rally was attended by about 700 people, including about 100 campers from overseas. All the participants enjoyed the rally program consisting of ceremonies, receptions parties, bus excursions and a variety of entertainment. It was a well organized rally which enabled campers to deepen an international friendship and confirm again the world-known hospitality by 7Taiwanese people.
Commission Meeting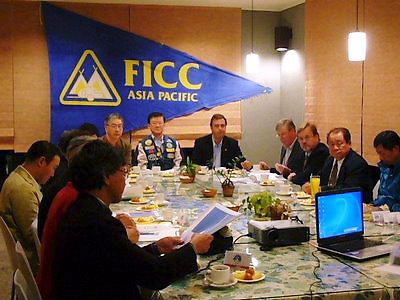 On November 23, the Asia-Pacific Commission had a meeting attended by Commission members from Japan, Taiwan and Korea as well as the President, the Vice-president and a council member of FICC. Kyung-Woo CHANG, President of KCCF explained by means of a visual presentation as well as paper documents, about the 74th International FICC Rally. It was decided that the 12th Asia-Pacific Rally in 2009 would be organized by JAC which would celebrate its 40th anniversary in 2009. FCCC expressed its readiness to host the 13th Asia-Pacific Rally in 2010 in Taiwan.
The 3rd Autocamping Symposium
"2007 Issues and the Autocamping"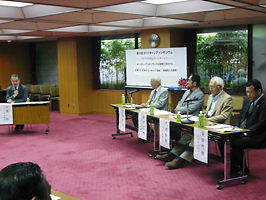 JAC organized the 3rd Autocamping Symposium with the theme "2007 Issues and the Autocamping--Autocamping Renaissance released by Baby Boomer--," to which representative persons of campers, campsite-owners, manufactures of camping goods and coach builders were invited as panellist. The baby boomer generation which forms the biggest volume of the Japanese population reaches retirement age from this year 2007. Since they have a plenty of leisure and are relatively wealthy they may be a important target for the autocamping. So the four panelists discussed what the autocamping will promise to their second life after retirement and how to involve them into our activities.
Outdoor 2007 in Tokyo
The event "Outdoor 2007", organized by Japan Auto Camping Federation, was held at Tokyo's Yoyogi Park Event Square on April 7 and 8, 2007. With cherry blossoms at bloom, the exhibition booths displayed camping products of Japan's most renowned outdoor manufacturers, caravans and motor caravans. The event also included fun programs such as bamboo craft, a log cutting competition and cooking class. Visitors also enjoyed a performance by the Andean music band and a joint performance of three drum sets on the outdoor stage. In the "Camp Village," built within the event site, the camping instructors brought their RV and tents so that the visitors enjoy a taste of the real camping.
Auto Camp Guide 2007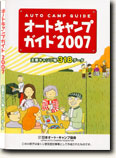 "Auto Camp Guide 2007"was issued by Japan Auto Camping Federation. In the guide the English inscriptions are provided for the names of prefectures, towns and campsites so that foreigners too can use it. Furthermore it shows the symbols for the services and facilities available at the various campsites which have been elaborated by F.I.C.C.
Chairman for the Year 2007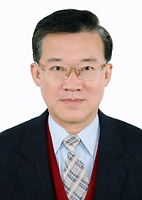 The Camping association of the Republic of China elected Mr. Ching Chang Lin as the new President effective January 1, 2007, so the chairman of the Asia-Pacific Commission for this year. Mr. Lin has attended many FICC and Asia-Pacific Rallies and is expected that he would further most contribute to development of his own club as well as Asia-Pacific Commission.
CCI Sticker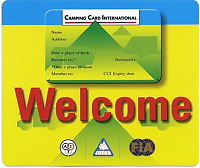 As a result of introducing the CCI in Japan 220 campsites are now cooperated with CCI. From now on not only Japanese campers but also foreigners can enjoy the same services as Japanese if they show a valid CCI at the reception of the campsites which are indicated as the CCI cooperated campsite by the CCI sticker.
JAC introduced CCI as membership card
Japan Auto Camping Federation has introduced CCI (Camping Card International) as membership card from January 2007. CCI is an international ID card issued by F.I.C.C. in cooperation with FIA and AIT which enables campers to take part in F.I.C.C. rallies, get discount service on the campsites that cooperate with J.A.C in Japan as well as with F.I.C.C. worldwide. Furthermore CCI is accompanied by an insurance which covers the legal liability for damage and personal injury to third parties during camping trips and a stay in a rented accommodation or hotel to a maximum amount of 2,500,000 Swiss francs per incident.