Topics 2011
14th Asia-Pacific Rally in Korea
Big delegation from China
The 14th Asia-Pacific Rally was organized by Korea Camping & Caravanning Federation (KCCF) from 21th to 24th October 2011 in Dong-Hae City,Gang-Won Province, Korea. The rally site is Dong-Hae Mang-Sang Auto Camping resort where the 64th F.I.C.C. International Rally took place in 2002. The rally was joined by Korea (KCCF), Taiwan (FCCC/CAROC), Japan (JAC), China (FSC), Netherlands (NCC), Finland (SF-Caravan)and Portugal(FICC president). Especially this is the first Asia-Pacific rally which a large number of Chinese participated in as new member of F.I.C.C. All the participants enjoyed the Korean rally held at the beautiful sea coast.
The Commission Meeting in Korea
During the 14th Asia-Pacific Rally
On 23rd October during the 14th Asia-Pacific Rally in Korea, the Commission had a meeting attended by members from Japan, Taiwan, Korea and China. During the meeting it was announced that the 15th Asia-Pacific Rally would be held in next September in Tian Jin which is the 3rd biggest city in China. The rally will take place in the same period as the 4th China Tourism Industry Festival, so both events can be combined.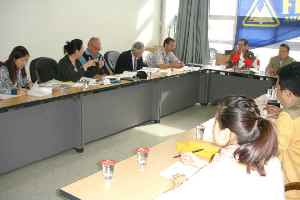 China International Tourism Industry Expo 2011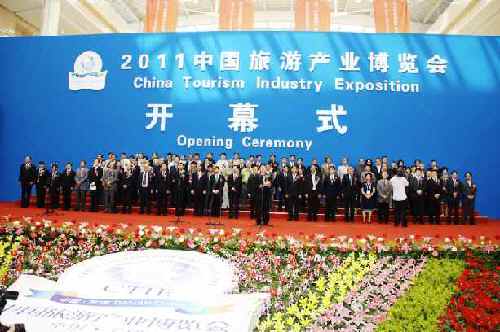 China International Tourism Industry Expo 2011 sponsored by National Tourism Administration of P.R.C.and People's Government of Tianjin, supported by UNWTO, was held from September 2nd to 4th at the Mei Jing Exhibition Center Tianjin. This event focuces on creating for the cooperation and mutual benefit among tourism industries and fully enhances the exchange and cooperation on tourism industries among differential nations, provinces and cities. Thus it shall strengthen the link between tourism and other sectors such as manufacturing, tourism supporting equipment and facilities. The expo was exhibited by more than 500 enterprises which produce or supply things such as caravans, camping gears, yachts, ski equipment and hotel supplies and visited by about 200,000 people.
China RV and Campground Industry Development Forum
During the China International Tourism Industry Expo 2011, on September 3rd, a sympoium named "China RV and Campground Industry Development Forum" was held with eight experts from different parts of the world including Mr.Joao Alves Pereira, President of F.I.C.C., and Mr.Kazuhiro Akase, Secretary of the Asia-Pacific Commission.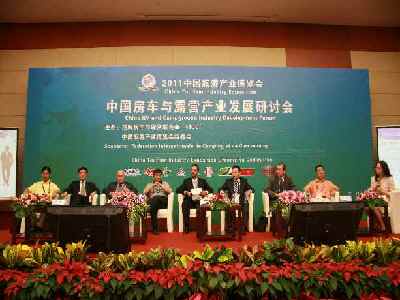 Auto Camp Guide 2011
A free copy for foreigners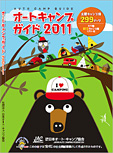 Japan Auto Camping Federation issued "Auto Camp Guide 2011" which includes details of about 300 campsites in Japan. In the guide the English inscriptions are provided for the names of prefectures, towns and campsites and URLs are available if campsites have such.

If you wish to have one, please let us know your request along with your name and detailed address in order that we can send one copy for free.
New President of the Camping Association of R.O.C.

The General Assembly of the Camping Association of R.O.C. held in Taipei on April 30th elected Mr.Fred Jan as president of the organization. Mr.Jan has been very active on the area of camping and caravanning activities and participated in a number of rallies such as Taiwan, FICC and Asia-Pacific Rallies. The Association celebrated its 35th anniversary of foundation last year, being ready to make a new start from this year. Especially at this very important moment, Mr. Jan is the most competent and appropriate person, not only for his organization but also for the whole Asia-Pacific.
2.Beijing International RV and Camping Exhibition
10,000 visitors attended, 200 vehicles sold
China's emerging camping and RV industry was on full display March 25-27 during the second Beijing International RV and Camping Exhibition. More than 80 motorhomes and travel trailers - plus exhibits featuring parts and accessories, outdoor equipment, ATVs and even motorboats - covered nearly 20,000 square meters at the Beijing RV Camping Park portion of the Expansive Beijing RV Expo Center, Fangshan District, Beijing (Peking).

Sponsored and organized by the China RV and Camping Association, the show is considered China's foremost professional RV and Camping exposition and, according to an association spokesperson, is the first-ever show in China that focused on both RVs and camping goods. That combination proved an effective enticement for the country's growing outdoor recreation crowd. According to Wang Xudong, exhibition committee officer, nearly 10,000 visitors attended the three-day event and more than 200 vehicles were sold. The combined RV and camping show featured everything from motorized and towable RVs to tents, ATVs and boats. "Most of the visitors were familiar with RVs," added Wangping, general manager of Junqi RV Sale Company, "so the (combination) show attracted a lot more interest. We saw a lot of sales." In addition to exhibits by China's RV manufacturing sector, displays also included American brands such as Fleetwood, Winnebago, Jayco, Lance, Monaco and Krystal. During the show, the China RV and Camping Industry Development Forum also was scheduled to invite government officers, manufacturers, dealers, suppliers, investors, RV owners and representatives to discuss the current and future of Chinese RV and camping industry.
Gigantic Earthquake Hit Japan
Caused huge tsunami and serious nuclear accident
On Friday, March 11, a magnitude 9.0 earthquake occurred off the northeast coast of Japan and triggered a tsunami (seismic sea wave) that swept up coastal communities. The earthquake caused fires and severe damage to buildings, leaving millions of households without electricity. Over 10,000 people are reported dead, and many more are injured or missing. The scale of the disaster is so large that even the most prudent designs of construction such as air port or nuclear power plant could not bear. Also autocamping grounds located in the afflicted area has been damaged and can not operate for a while.
Encouraging Messages from all over the World
Taiwan: We are concerned about the natural disasters and particularly the nuclear crisis in your country. At this moment please see us not only nieghbors but your families. Considering the danger of nuclear radiation, I set up a group on facebook to find rooms for Japanese to stay in Taiwan in case of need. In just a day we are able to accommodate over 40 guests. Please kindly pass this message to people around you. All are welcome to come to Taiwan and spend a period of time here.
---
Korea: Korean college students and Japanese students in Korea chant and carry placards "Ganbarae!! Japan" to raise funds for people who suffering from the earthquake and Tsunami.I have all seen the horrific scenes of disaster in Japan, and Korean campers and I want to share your sorrow. We are all praying for you, your family and campers for safety and health.I believe that this earthquake and Tsunami swept away many Campers' livelihood in Sendai region and north east coast of Japan. I sincerely pray for them that the damages can be minimized and their livelihood can be restored as quickly as possible. Japan, Ganbarae!!
---
China: I'm very much regret the massive disaster occurred in Japan. Also hope that people can live tenaciously. If there is any need, I will follow your instructions, we will do our best to give a hand for any help. Please don't be hesitated to let me know.We'll pray for the whole Japan.
---
Ireland: I write to you in the hope that you and your family are well and safe considering the terrible conditions that are happening in your country. Please express my good wishes to all your family and friends in this sad time. Our thoughts and prayers are with you and your country at this time and should I can be of any help to you now or in the future please do not hesitate to ask. I remain your good friend and I hope that things improve quickly.
---
Netherlands: I do wish to express my sincerest sympathy with you and your family as well as to the Japanese people for the natural disasters which have such an enormous impact on life in your country. We hope that you and all of your family are well and pray that the Japanese people will be able to overcome the terrible tragedy which hit your country, and we mourn with you for the lives which were lost.
---
Belgium: I hope that you, your family and relatives all are well. We try to put it out of our mind that something could happen to you in these terrifying days. If you think of a way in which we could be of any help to you, please let us know. All Flemish camping friends keep their fingers crossed and hope that you all are well, we also hope to meet you at one of the future rallies.
---
England: Janette and I have been listening to the terrible news in Tokyo and we have been thinking about you all. We do hope all is well with you and you have avoided all the trauma we have been reading.
---
Spain: By NHK TV world, I am aware of the terrible catastrophe that invades Japan and not least I am concerned about all my friends there including you and your family.I can not separate from listening Television news and hoping to stop the number of deaths and that everything returns to normal, although it will take a long time for that to happen, but the Japanese people you are very hardworking, competent and intelligent and that you will be able cope.
---
Finland: I have seen Finnish TV about the tragic quake disaster. I am sad for Japanese people. Your family and children Ok? Home Ok? Friends Ok? Your Camping friends Ok? Camping area in the northeast Japan Ok?
---
Poland: Es ist eine schreckliche Tragoedie, wir leben sie mit. Ich weiss, dass die Worte nichts bedeuten, aber wenn Du brauchst etwas Hilfe, bin ich zur Verfuegung.