Topics 2008
The 74th FICC Rally
Campers from Around the World Gather at the Bank of Han River
The 74th international camping and caravanning rally, hosted by KCCF was held in Gapyeong, Gyounggi State, Korea from July 25 to August 3, 2008. It was attended by about 400 campers from overseas including Asia and about 1,500 campers from Korea, who enjoyed building international friendships through special events, short trips, parties and other fun activities.
Commission Meeting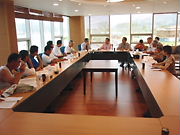 The Commission had an annual meeting in Gapyeong, Korea on 28th July 2008 during the 74th International F.I.C.C. Rally. The Commission decided three future rallies:

(1)12th Asia-Pacific Rally in 2009
The 12th Asia-Pacific Rally will take place in Daigo Green Villa, Ibaraki-Prefecture from 21 to 23 November 2009, hosted by Japan Autocamping Federation celebrating its 40th anniversary.

(2)13th Asia-Pacific Rally in 2010
Formosa Camping and Caravanning Club will organize the 13th Asia-Pacific Rally on a campsite at about 30 minutes from the Taipei Airport.

(3)FICC Youth Rally
The FICC Youth rally will be organized by Formosa Formosa Camping and Caravanning Club in July 2009, in combination with a cultural camp and a post rally.
Symposium in Korea
Nature and Human beings, Promise for the future
Prior to the 74th FICC International Rally held in Gapyeong,KCCF in collaboration with F.I.C.C. held a symposium at the Seoul Press Center from 14:00 to 17:00 on July 25, 2008. There were about 200 audiences including the rally participants who had been brought to the symposium from the rally site by coach. The main theme of the symposium was "Nature and Human beings, Promise for the future".The speakers are Mr.Joao Pereira(FICC president),Mr.Karl Zahlmann(DCC President),Mr.Seung Gon Lee (Research Institute of Development Tourism),Ms.So-Young Yoon (Chief of Leisure Research Center),Mr.Kazuhiro Akase(Secretary General of FICC Asia-Pacific Commission),Mr.Jan Eriksen(FEE President),Mr.Cheol-Min Kim(Ministry of Culture,Sports and Tourism).
Symposium in China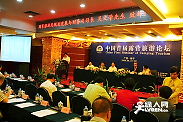 The first Seminar of Camping Tourism was held on 21st August in Guangxi, hosted by China Tourism Association and sponsored by Beijing CenTech Camping Development Co. Ltd. (CRVC). Mr.Joao Alves Pereira,F.I.C.C. President, gave a lecture about the history of F.I.C.C. and present situation of international camping and caravanning.
F.I.C.C. tent-glossary

The F.I.C.C. tent-glossary (published in 1996 has been reprinted by the Commission and uploaded on its website in July. Since the contents are adopted as ISO standards, this initiative shall demonstrate the academic and educational aspects of F.I.C.C.
New President of FCCC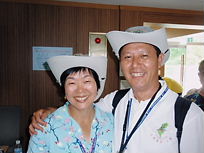 Formosa Camping and Caravanning Club (FCCC) elected Mr.DeYuan CHANG as new President of effective January 1, 2010. We expect that he will lead his team to organize the 13th Asia-Pacific Rally plannde to be held in Taiwan this year.
CCI Applicable for the Ferry to Hokkaido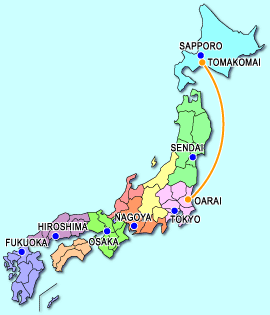 Members of Japan Auto Camping Federation (JAC) have been enjoying a 15% discount for MOL Ferry services between Oarai (Ibaraki) and Tomakomai (Hokkaido). As the JAC membership cards are now replaced with the CCI (Camping Card International), this special offer of the discount will be extended to all CCI holders.This extension of the discount will enable a million campers (CCI holders) from all over the world, including South Korea and Taiwan, to receive the same discount as the JAC members.
Taiwanese Can Drive in Japan
Road Traffic Law of Japan revised

As the revised Road Traffic Law of Japan came into force on September 19, 2007, it is now possible to drive cars in Japan with the Taiwanese drivers license. This revised drivers license system enables visitors from Taiwan to make more personal trips in Japan by renting cars, for example, instead of participating in group tours.

Having hosted the F.I.C.C. Rally two times and the Asia-Pacific Rally three times in the past, Taiwan is very enthusiastic about camping. We can expect to see an increasing number of Taiwanese campers enjoying sightseeing in Japan by renting cars and staying at campsites throughout this country.

With this predicted increase in the number of campers from Taiwan, Japanese campsites will need to make necessary preparations, such as training staff who can speak some English, printing English pamphlets about campsite services and surrounding areas, and making camping equipment available for rental to those who wish to camp in tents. Currently, more and more campsites in Japan are providing food services in various styles. The need for these food services should also be considered as we prepare for receiving more campers from overseas.

As of 2006, the number of tourists from Taiwan is 1,184,183, which accounts for more than 20% of the total number of foreign tourists to Japan; Taiwan ranks second, following South Korea. The April-September 2007 statistics on the number of foreign visitors to Hokkaido, which is the most popular destination among Taiwanese tourists, show that the visitors from Taiwan account for as much as 41.8% of the 3,400,000 visitors from overseas. These figures indicate that there are a significantly large number of Taiwanese tourists to Japan.

The whole land of Taiwan is subtropical. This means that there is not much variety in the scenery across the island. In contrast, Japan stretches north to south, with each region presenting its unique climate and natural environment. In other words, Japan is an attractive sightseeing destination for Taiwanese people as it offers a rich variety of interesting scenes in each region and each season. Another great thing about Japan for Taiwanese tourists is that there is only one hour of time difference between Japan and Taiwan, and the travel by air only takes a little more than three hours. All this makes Japan a wonderful destination for Taiwanese campers.
October Is the Peak Month for Auto-Camping?
Uncommon phenomenon caused by gasoline prices in Japan

In 2008, gasoline prices suddenly surged during the first half of the year, peaking at a national average of 185 yen per liter (retail price of regular-grade gasoline for payment in cash) in August, the most popular month for camping, according to The Oil Information Center statistics. This suppressed auto-camping activities in that month, as indicated by the figures in the White Book on Auto-Camping 2009, published by Japan Auto Camping Federation: The percentage of campers who camped in the "peak" month of August was only 52.2%. In contrast, the percentage for October was 69.4%, which was the highest in that year and 29.9 points higher than the previous year's record for the same month 39.5%, which is considered a significant increase. This was presumably caused by sharp declines in the gasoline prices in the following months after they peaked in August. This trend was even more remarkable in recreational vehicles which consume the highest level of gasoline, with their percentage for October at 89.7%, which was 40.9 points higher than the 2007 equivalent of 48.8%.
CCI campsite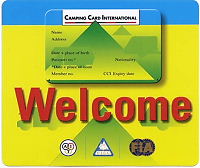 In Japan about 200 campsites are cooperated with CCI. Not only Japanese campers but also foreigners can enjoy the same services as Japanese by showing their valid CCI at the reception of the campsites which are indicated as the CCI cooperated campsite by the CCI sticker.Those campsites are presented on the web map "CCI Campsites in Japan".