Topics 2009
The 12th Asia-Pacific Rally Held
At Green Villa Daigo late in autumn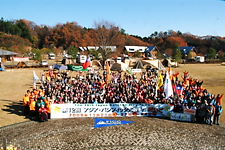 The 12th Asia-Pacific Rally (in conjunction with the 39th Japan Autocamping Rally), organized by Japan Auto Camping Federation and co-hosted by Ibaraki Prefecture, Town of Daigo, and Daigo Development Corporation, was held at Green Villa Daigo in the Town of Daigo, Ibaraki, Japan from November 20 to 23, 2009. The Rally was attended by about 400 people, including 54 campers from overseas. All the participants enjoyed the international exchanges and various events for the four days. Surrounded by the beautiful nature of Okukuji Hot Springs Village and provided with advanced facilities of the highest ranked campsites in Japan, the rally was greatly successful. It is particularly worth noting that a number of the campsite staff and volunteers warmly welcomed the visitors what contributed to the great success of the Rally.
The Commission Meeting
During the 12th Asia-Pacific Rally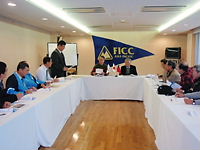 On November 22, the Commission had a meeting attended by members from Japan, Taiwan and Korea. During the meeting members discussed about policies of activity in the Asia-Pacific region and made some decisions. There will be two rallies in near future.:

(1)13th Asia-Pacific Rally in 2010
The 13th Asia-Pacific Rally will be organized by FCCC from 12th to 14th November 2010 in Sansia Town, Taipei County, Taiwan. It is located about 30 minutes from the Taipei airport and about 40 minutes from Taipei City. The rally site is called "Queen Town Forest" and well designed for camping and leisure. Regarding accommodation there are 12 caravans and 6 cabins. The caravans are fully equipped for convenience. Since the rally will be supported by the government, it will be very successful and everybody can enjoy.

(2)14th Asia-Pacific Rally in 2011
The 14th Asia-Pacific Rally will be organized by KCCF in autumn 2011. The rally place will be selected out from about ten camping grounds which are now on construction.

Furthermore, KCCF announced a project"Great Caravanning Road Trip" which is a caravanning road trip from Japan to Croatia, where the 76th F.I.C.C. Rally will be held from 18th to 25th June 2010. This trip will be the world's first caravan crossing event which can create a new caravanning road starting from Japan, passing through countries like South Korea, North Korea, Silk Road in China and countries Eastern Europe , and finally to Croatia. This event shall be organized by all participating camping federations and managed by Korean public and private broadcasting companies.
Symposium in China
Big impact to camping tourism in China
The Second China Camping Leisure Tourism Forum opened in Haikou, Hainan Province on December 10, sponsored by China Tourism Association and Hainan Tourism Development Committee and co-organized among others by China Travel Service Association, China Tourism Automobile and Cruise Association and Beijing CenTech Camping Development Co. Ltd. (CRVC) . This event drew an audience of about 300 leisure products manufacturers and suppliers and others from 21 provinces and autonomous regions in the exhibition hall of Haikou Mingguang HNA Hotel. The forum, in addition to top officers from China national tourism administration and associations, invited three members of the Asia-Pacific Commission, Kazuhiro Akase, Secretary General, Chang Kyung-Woo, Chairman of KCCF and Warren Zeng, former chairman of FCCC to give speeches on the theme of "Building a communication platform and speeding up the development of national camping industry".After the forum, the participants visited Haikou Holiday Beach CRVC Campground to experience an exhibition for camping products, campground construction and campground management. This big event will for sure make more Chinese people know about the camping tourism and give a big impact to the development of this new leisure in China.
Condolence
Mr.Okamoto Passed Away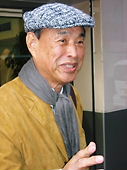 Mr.Masamitsu Okamoto, former vice-president and one of the founders of Japan Auto Camping Federation, passed away on Sunday, October 11,2009 due to heart failure. He was 78.

We deeply thank his great contribution to the camping and caravanning for the past 40 years, and pray sincerely for the repose of his soul.
The 40th Anniversary
Japan Auto Camping Federation
Japan Auto Camping Federation celebrated its 40th anniversary on May 30, 2009 at the National Olympics Memorial Youth Center in Tokyo. At the celebration party, Mr.Junzo Hasegawa, President of J.A.C., gave an opening address and thanked all the participants for their support and collaboration for a long time. For this memorial event Mr.Joao Alves Pereira, President of F.I.C.C. sent his message in which he reviewed the excellent cooperation between JAC and F.I.C.C. during all these years, concluding with his words,"I would like to congratulate the JAC for the 40th anniversary and wish the best success for the future of this great organization".
Outdoor 2009 opened in Tokyo
Traditional outdoor festival in Japan
The event "Outdoor 2009", organized by Japan Auto Camping Federation, was held at Tokyo's Yoyogi Park Event Square on April 11 and 12, 2009. With cherry blossoms in full bloom and blessed with fine weather,the event attracted about a hundred thousand visitors. The exhibition booths displayed camping products of Japan's most renowned outdoor manufacturers as well as camping cars and information on campsites. Visitors also enjoyed a dynamic Japanese drum concert performed by a woman team and a performance of junior high school brass band on the outdoor stage. In the "Camp Village," built within the event site, the camp instructors entertained guests with smoked meat, bamboo craft, mini ping-pong, and so on.
Auto Camp Guide 2009
A copy presented for foreigners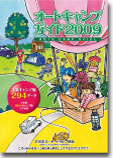 Japan Auto Camping Federation issued "Auto Camp Guide 2009" which includes exact data of about 300 campsites in Japan. In the guide the English inscriptions are provided for the names of prefectures, towns and campsites so that foreigners too can use it.

If you wish to have one, please let us know your request along with your name and detailed address in order that we can send one copy for free.
Expressway Toll Reduced in Japan
For vehicles using ETC system

As of March 28, 2009, in Japan, the expressway toll has been greatly reduced for vehicles where the electronic toll collection (ETC) system is installed. Standard-sized cars and minicars using the ETC system may travel on expressways across the country, except those around Tokyo and Osaka, all day on weekends and national holidays without limit for 1,000 yen (or half the toll for portions of expressways that charge less than 1,000 yen). A toll discount has also been applied to all types of vehicles, including large vehicles, on weekdays. This is part of the governmentfs efforts to boost the economy, and it is being implemented for a limited period of two years through fiscal 2010. This toll-reduction measure is expected to revitalize the tourism industry. Furthermore, it was announced that 5,250-yen subsidies would be available to four-wheeled vehicle owners who wished to newly install ETC system in their vehicles from March 12 to 31. Those vehicle owners rushed to car equipment stores and car dealers on the first day. On the other hand, this measure has concerned railroad companies and the bus and ferry industries for possible reductions in the numbers of users of their services. Expected increases of traffic jams and accidents on weekends when a drastically larger number of people use expressways are also issues of concern. In addition, since now is the time to discuss how to reduce carbon dioxide (CO2) emissions as part of the measures against global warming, the current government measure to promote the use of motor vehicles, a major source of CO2 emissions, has been questioned by environmentalists.
Internet is no more dispensable for Campers
Shift to the Internet for Choosing Campsites

As the Internet is now being used in every area of society, it has become indispensable for auto-campers as well. The latest survey conducted in Japan reveals that, when choosing campsites, 31.9% of campers use the Internet, 20.9% use magazines/guidebooks, and 38.4% use both, indicating that about 70% of the campers use the Internet for that purpose. In particular, the percentage of those who go online to check campsite information is increasing each year. On the other hand, fewer and fewer campers are now checking magazines/guidebooks for such information, and in this survey, the number of the Internet-using campers exceeded that of the magazines/guidebooks-using campers for the first time. The Internet is also used by a wide range of age groups, including people in their 20s and 50s. Furthermore, as many as 81% of campsites have their own Web sites now.
RV Campers are More Active
Compared with Tent Campers

Of all the auto-campers in Japan, those who use RVs (recreational vehicles) only account for 6.8%. However, the standing of their activities differs greatly from that of tent campers'. Looking at the average frequency of camping, owners of RVs (including trailers) camp 11.5 times/year, which is almost triple the overall average of 4.2 times/year. This reflects the characteristics of RV camping: Traveling is easier for RV campers than tent campers and RV camping is not much affected by weather conditions. As for the duration of stay, the average camping duration for RV owners is 19.8 nights, which again is almost triple the overall average of 6.5 nights. The duration group that recorded the highest percentage (53.4%) in RV campers is the "11 nights or longer" group. Compared with the result for all campers (where the highest percentage is 27.3% for the "3-4 nights" group), it clearly shows that RV campers are significantly more active than the other campers. Comparing the yearly income between RV owners and all campers, while the most-frequently-recorded income for all campers is 5 million yen (21.0%), that for RV owners is 10 million yen or above (31.0%).