The World I've Seen

Tae-Hyung Kim

4th Grade in Yong Pong Elementary School
I couldn't sleep last night. Today I am going to camp in England with my mother for 10 days. It's a 14 hour flight and we're going to make stopovers in Taiwan and Bangkok.

It was very interesting in London. There are two-story buses and the buildings are so different from ours. People drive on the opposite side, too. We toured around the city. It was fantastic! I wish I could live here.

Early next morning we arrived in Lincoln. It took us 3 hours to get there. Mom and I looked around the camp. It was amazing! There was a camping car that looked exactly like a house. It had a bed, kitchen, refrigerator, dining table and even a bath room! I've never seen anything like this before. Mom cooked, read books and listened to music in it.

Next day, for the opening ceremony I wore my traditional Korean dress "Hanbok". Many foreigners found my Hanbok neat and took lots of pictures. Their outfits looked neat, too. There was even a Scottish man in a skirt!

We exchanged souvenirs each other. It was great to be able to camp out with so many people. I borrowed a bike and looked around. A man named Bajor from Finland was especially nice to me. I'm going to send him a Christmas Card.

We toured around a castle and a small village. There were so many tourists. I've been to lots of picnics in Seoul but I wish it was as clean and nice as here.

It's our last day here. The night before I thought about some things. We should love nature, volunteer, learn not to depend on others and help one another. I've got a little idea of what these things really meant. I want to learn English and be able to speak with foreigners and tell them about Korea.

To everyone I met at Lincoln, Bye Bye!

Let's meet in Germany next year!

With love from Korea
My First Tour Abroad

Su-Young Min

6th Grade in Shin Young Elementary School
It was the first time in my life to go abroad. So I was more than excited on that day. This journey was not just a holiday, it was to attend the F.I.C.C. International Rally in England. My father has attended the rally before, but this time all my family went together what made me so happy.

We changed the planes in Bangkok. I fell asleep, and when I woke up, the plane was flying over Germany. Then it landed at the Heathrow Airport. What an unforgettable moment it was! I couldn't believe myself standing in England, my dream land!

We got back all luggages and went off for sightseeing in the central London with a guide. We saw the statue of Nelson, took some pictures at the Trafalgar Square, visited the Buckingham Palace and the marvelous Tower Bridge. At the moment I wished I were living in London.

Next day we went off for Lincoln city where the rally was to be held. We took a chartered bus but I didn't want to sleep in order to grab all the exotic landscapes. When we got to the city, there were a lot of people from other countries and welcomed us. We got a caravan to stay in. When I lay on bed, my head was beating.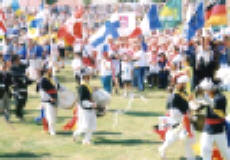 On the next day there was the opening ceremony of the rally. We put on our traditional cloths and took the national flag of Korea. A Korean traditional drum band led us, then followed Mr.Kyung-Woo Chang, President of KCCF, and my father with the big flag. A lot of people focussed us. We were very happy and proud as Korean.

At the Korean reception we welcomed many guests. I wished to eat but I couldn't because there were so many people waiting in a line. Even though I was very hungry and tired, I was happy. Foreigners liked to eat Korean food so much, especially "Bul Goki", roast beef cooked in a Korean style. The night hardly finished.

We looked around Lincoln city during the rally. We took a double-decker reserved for F.I.C.C. members. It was very exciting and fun. We walked along the street where I took a lot of pictures and looked in at many shops.

On the rally site, I met many people and exchanged gifts each other. But it is time to say good bye. We can not meet again. What should I do. There is no way. However through this meeting I have learned many things. Before I went abroad, I thought that other countries were much better than my country. But now I realized how much important for me my country is.

So I hope to go to the next F.I.C.C International Rally and meet lovely people in the world.

Thank you and Good Bye!
February 1999 (Asia-Pacific News No.4)