The 70th F.I.C.C. International Rally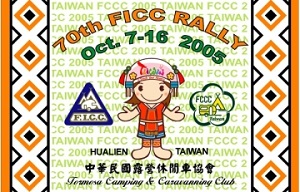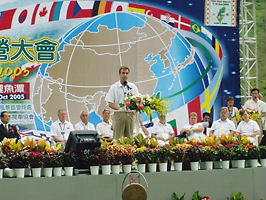 The 70th F.I.C.C. International Rally was held on October 7-16, 2005 at the scenic Liyutan campground in Hualien County of eastern Taiwan. It was attended by around 1,200 campers, of which 150 were from overseas. The participants were welcomed by Taiwanese campers with enthusiastic hospitality and enjoyed international cultural exchanges through a party, entertainment, tour, symposium, and other events.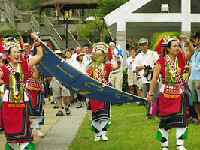 At the opening ceremony held at Liyutan Lake, about 2 km away from the rally site, Dr. Morio S. H. Chen, President of the Formosa Camping and Caravanning Club, and some distinguished guests presented greetings, which was followed by a speech by President of F.I.C.C. declaring the opening of the Rally. At that moment, a motorboat appeared with the F.I.C.C. flag streaming in the wind. After making a few circles around the lake, the motorboat delivered the flag to the shore. The flag was received and carried to the main pole by five aboriginal women in colorful costumes reciting a song. They purified the surrounding area with alcohol as a ritual and handed the flag over to boy scout members. The F.I.C.C. flag was then raised on the main pole to the music of Beethoven's "Ode to Joy" from his Symphony No. 9.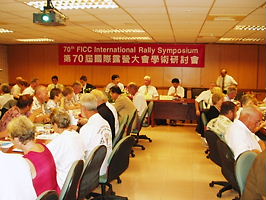 During the Rally, a symposium was convened at Taiwan Hospitality & Tourism College on the theme of "Camping and Environmental Education." Panelists invited from Taiwan, Japan, Finland, and Denmark made presentations and discussions on "Eco-camps."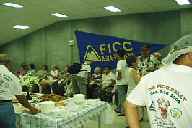 Asia-Pacific Commission organized a reception party and invited representatives of participating countries, including campers from Taiwan, Korea, and Japan. Following a welcoming address by Mr. Kazuhiro Akase, Secretary General of the Commission, organizations and individuals were awarded honors in recognition of their past contributions to the Asia-Pacific activities and presented with special gifts by Committee Chairman, Mr. Warren Tseng.The award recipients were Formosa Camping and Caravanning Club ; Camping Association of the Republic of China ; Japan Auto Camping Federation ; Korea Camping & Caravanning Federation ; President and both Vice-Presidents of F.I.C.C.; Mr. Lars Dahlberg, Honorary President of F.I.C.C.; and Ms. Silvia Brohl, former Secretary General of F.I.C.C. In addition, the F.I.C.C. President presented the F.I.C.C. Cup to Mr. Chang Kyung-Woo, President of Korea Camping & Caravanning Federation, from which 52 members participated in the 69th F.I.C.C. International Rally in Bologna, Italy earlier this year, and the Gold Medal to Mr.Kazuhiro Akase, who served four terms as F.I.C.C. Council Member for 12 years.