The 14th Asia-Pacific Rally in Korea
The 14th Asia-Pacific Rally was organized by Korea Camping & Caravanning Federation (KCCF) from 21th to 24th October 2011 in Dong-Hae City,Gang-Won Province, Korea. The rally site is Dong-Hae Mang-Sang Auto Camping resort where the 64th F.I.C.C. International Rally took place in 2002.
The rally was joined by Korea (KCCF), Taiwan (FCCC/CAROC), Japan (JAC), China (FSC), Netherlands (NCC), Finland (SF-Caravan)and Portugal(FICC president). Especially this is the first Asia-Pacific rally which a large number of Chinese participated in as new member of F.I.C.C. All the participants enjoyed the Korean rally held at the beautiful sea coast.
The opening ceremony was the first highlight of the rally. After the speeches by Mr.Chang Kyung-Woo, President of KCCF and Mr.Joao Alves Pereira, the Convention center where the ceremony took place was filled up with music performed by bands and chorus of Dong-Hae City.
On the outodoor stage set up at the seaside took place "International Evening" showing verious performance by campers from Korea,Taiwan, Japan and China.
The Chinese Evening is surely another highlight of the rally. It was held by Fortune Sports Club and perfectly prepared by its members. All the guests enjoyed the Chinese food and drink after they received a nice gift at the entrance.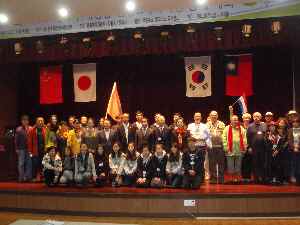 At the Closing Ceremony, the FICC Asia-Pacific flag was lowered to the music of Beethoven's "The Ode to Joy" and returned to F.I.C.C.President who then handed it over to Ms.Millian Hu, the next rally organizer in China.