The 9th Asia-Pacific Rally
Returned to Jeju Island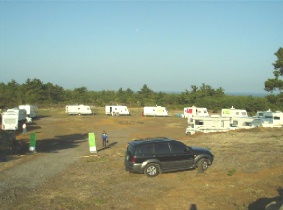 The 9th Asia-Pacific Rally organized by F.I.C.C. (Federation International de Camping et de Caravanning) was held in Jeju Island, Korea from October 30 to November 3, 2004. Around twenty caravans, including rental caravans, gathered at the Hallim Resort, a rally site about 40 km away from the local airport. The Rally was joined by President of the F.I.C.C. and his wife in addition to as many as two hundred participants from Japan, Korea, and Taiwan.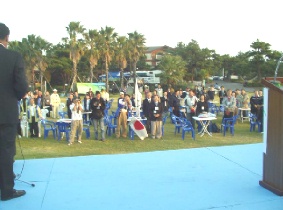 The opening ceremony, attended by Lieutenant Governor of Jeju Province, took place in the early evening of the first day. It began with the opening declaration by the F.I.C.C. President, and then the F.I.C.C. flag was raised to the music of the "Ode to Joy" from Beethoven's Ninth Symphony played by the Navy Band. At the welcome party following the opening ceremony, fun entertainment was provided such as folk performance by local residents and a Bingo game in which everyone participated.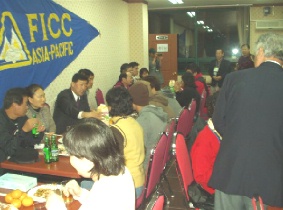 Throughout the rally period, a shuttle bus service was made available every hour from the rally site to downtown Hallim, so the participants could enjoy shopping and dining in town as well as tours in a local botanical garden and the Hallim Park, a famous geological site with stalactite caves. On the second day, the Taiwanese team had a garden party, where Korean barbeque and local brews from Taiwan were offered. At another party, held by the Japanese team on the eve of the closing ceremony, the organizer invited not only the rally participants but also the student volunteers who assisted in the management of the Rally, and this helped create a friendly atmosphere. For entertainment, a Korean grade school girl demonstrated Taekwondo and received big applause from the audience.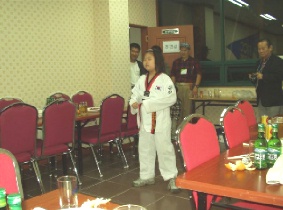 At the closing ceremony, Mr. Kyung-woo Chang, President of Korea Camping & Caravanning Federation, as a representative of the host country, handed the Asia-Pacific flag to Mr. Junzo Hasegawa, President of Japan Auto Camping Federation, who was representing the next host country, Japan.