Enjoyable Acquaintance with People

Kay & Kurt Froehling

Australia
What a wonderful experience for us two from Australia to attend the F.I.C.C. rally at Sweet Grass, Kita-karuizawa last October 9 - 13th. This was the second Asia-Pacific Rally we have attended and it was so enjoyable to renew friendships made in '96 in Taiwan and to make so many more new ones. This friendship and the unbelievable hospitality and kindness shown to us plus the extraordinary natural beauty of the area made this a truly unforgettable 5 days of camping.

Congratulations must be given to the Japan Auto Camping Federation for their organization and planning. Thanks also to the Mayor of Naganohara City, for hospitality and kindness extended to all the campers.

It's hard to imagine a more beautiful camping site, nestled at the foot of the majestic Mt. Asama, amid the fantastic autumn colors of the surrounding trees and forests. No wonder so many people flocked to the convention and enjoyed such natural beauty whilst creating joyful camaraderie. The site itself offered every facility and there were always so many helping hands to answer requests or solve any problems, large or small.

The days were filled with such a wide variety of activities and excursions, viewing natural wonders such as volcanoes and caldera lakes; experiencing and learning about Japanese culture and way of life through food, drink, "onsen" (hot spring), music and dance. The opening and closing ceremonies were successfully planned and the evening get-togethers were filled with rich unforgettable memories.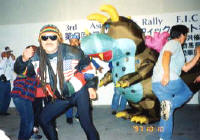 Who could forget the kindergarten singers and the children's band; the dancers, young and old, both graceful and energetic; the fantastic drummers; the trumpeter and the participation of so many other talented performers? Our photos bring all these memories back to us.

The weather was great but we laugh as we remember the first night, the temperature dropping to minus 6, and not being prepared for such cold. However, in the early morning, to see our tents covered in ice and the surrounding site a sea of white, was a memorable experience.

How kind our hosts were to ensure the following nights we had plenty of warm blankets and would sleep comfortably.

Groups from 10 foreign countries were represented and we were surprised at the number of Japanese campers and also at their sophisticated camping equipment. They really know how to enjoy camping. Our tent was really great and we would have liked to pack it up and take it back to Australia as it would be so perfect for our climate.

However, all good things come to an end, it was sad to say good-bye and pack up, but we were also happy, as we knew we were going to continue enjoying the beauty of Japan and friendship of the Japanese people as we traveled around the country for 3 more weeks.

Vale "Sweet Grass", Kita-karuizawa!
January 1998 (Asia-Pacific News No.3)