Participating in the 3rd Asia-Pacific Rally

Clarence Boutin

Federation Francaise de Camping et de Caravanning
It is with great joy that we dive back into the wonderful reality of the past, today's memories, and share with you our own personal account of this trip. We are a retired French couple living in the greater Lyon area, and our names are Jack and Suzanne Husson. And yes, we have been using a camper for our holidays for nearly 25 years already and have never tired of it once.

When the F.F.C.C. proposed that we participate in the 3rd Asia-Pacific Rally organized by the F.I.C.C. in Japan, we did not hesitate. It was a dual challenge; until that time we had not taken part in a rally and we had also never been to Asia.

The flight was certainly long. But once there the rally was soon under way, and there was not a minute to lose to "fill up on" emotions; airport of Tokyo Narita before the transfer by bus near the Kita-karuizawa site. For Europeans, the feeling that everything is new and different is instantaneous. The immense city, the architecture, the traffic and especially the signs which to the end remained unfathomable, everything was a source of surprise, even when it came to similarities. As we approached our holiday resort, the road rose in altitude. What a strange sensation to have the impression of being in our Alps.

At the Hills Hotel, a delicious meal awaited us, enabling us to have our first contact with excellent Japanese cooking. We were graciously offered French wines, but were we not also there to discover new flavors!

We received a very warm welcome at the Kita-karuizawa site. The J.A.C.(Japan Auto Camping Federation) had seen to everything. Our interpreters, Mr. and Mrs. Takada, enabled us to begin conversing a little bit. We then found ourselves immersed in the big multinational family of camping and caravanning. Our tents were set up. Everything was in place. The environment was wonderful. The weather was splendid although a little chilly. In the evening, the young people of the JAC, who were very attentive to our needs, brought extra-heating chemical pads for our comfort. We felt "pampered".

With so much protection, we had an excellent night. At the break of dawn, our Japanese neighbor came over to say good morning with a big smile and a steaming pot of coffee in hand. The language barrier was deplorable and prevented us from fully expressing ourselves, but despite this handicap we campers had a great sense of understanding one another.

In Asama, we were received by the Mayor, Mr. Mamoru Tamura and by all the authorities. We were greatly touched by this attention and were able to see how important camping and caravanning is in Asia because of the presence of the different delegations. The show was wonderful; we appreciated the presentation, quality and delights of the products that were offered to us at the meal that evening.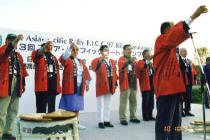 The opening ceremony was impressive with the speeches and raising of the flags. In fact we did not imagine that it was possible to combine so successfully such serious protocol and such a fun activity. But it is true that there was a greatness to this ceremony.

One evening in particular will remain a memorable human experience. It took place in a tent in the company of the campers of the NACC (Nippon Auto Camping Club), including Mr. and Mrs. Yamauchi whom we still thank for their friendship. More or less easy but always fun conversations took us well into the night. A lot of gestures, English, Chinese, Korean, Spanish, Finnish, French, and of course Japanese, enabled everyone to understand one another! It must be said that the hearty buffet, washed down with sake and various beverages brought by one person or another from all over the world favored the exchanges!

As far as we were concerned, the meals were also sometimes an opportunity to be confronted with an eminently "technical" problem; the use of chopsticks, especially when we wanted to venture without the group to a local restaurant. Fortunately, we had excellent teachers Mr. Hasegawa, President of J.A.C. and his wife who were kind enough to show us in an atmosphere of good humor how to eat the dishes that were served to us.

To be complete, we must add that to our great surprise, during our entire stay, we received a number of small gifts from our camping neighbors, small objects that were always given to us with a big smile and a sign of friendliness, a cordial handshake, a small pat on the back... the way people do it in what is actually the universal world of camping.

We will keep an excellent memory of this 3rd Asia-Pacific Rally (which was our first); perfect reception and organization, and in particular remember the very warmhearted nature of all the participants.

To all of you, many thanks again, drive safely and have fun camping!
January 1998 (Asia-Pacific News No.3)