Transcontinental Overland Expedition April/May 2002

Christiane and Pierre Beauvois
As the venue for the 64th F.I.C.C. Rally was Donghae City, Korea, Mr. Chang, President of the KCCF, thought it might be interesting to organise a transcontinental overland expedition across Europe and Asia. The general idea was to find ten or so volunteers from F.I.C.C. clubs and federations who would be prepared to drive outfits overland from Brussels to the rally site

There were several months of preparation and much uncertainty but in the end eight crews met up with the expedition leader, Ted Holt, in Brussels on 16 April. They would be accompanied throughout this great adventure by a Korean television crew from the KBS and KCCF officials.

After a final briefing session, we left for Antwerp to take delivery of our towing vehicles - brand-new Hyundai 4WD. We had a miserably cold and wet journey to Bremerhaven where we picked up our caravans (also brand-new) and where we encountered our first problem : one of the caravan couplings was missing, stolen while the caravans were in the harbour parking area. Searching for this vital part, getting repair work done and clearing customs formalities took so much time that we ended up camping just outside the city that night. The night was chill, but the weather had picked up and, the next morning, we set off in light mist.

We took the motorway to Putgarden, then the ferry to Denmark, and crossed into Sweden over the new road bridge where the foggy conditions restricted our visibility to just a few metres ! The campsite where we had planned to spend that night in Sweden was closed so we sought refuge at a farm campsite which was also closed. However the owner did allow us to camp overnight but warned us that there was no hot water. It was still very cold at night, but the days warmed up quickly with the early morning mist soon giving way to clear skies.

The crossing from Stockholm to Turku was straightforward and we slept well in our comfortable cabins. Then we headed off to Helsinki and the 'Ratsila' campsite where we were given a warm reception by President Dahlberg, SF Caravan officials and the local press. The campsite was undergoing major renovation work and manoeuvring our outfits around trenches and heaps of building materials was quite a challenge. This was a rest day and we had the chance to look round the capital city and make some last minute purchases for our journey. The next hurdle was the Russian border. We had been told that this was a busy border crossing where customs formalities took an age to complete so we decided to spend the night as near to the border as possible and make an early start next morning. We spent the night in the lorry park near to the Vaalinaa crossing point but got no sleep thanks to the incessant racket from the manoeuvring trucks so decided to get going at 3.30 am.

It took us just 15 minutes to clear Finnish customs but then we had to exercise great restraint and patience, edging forward just a few inches every now and again. Two hours later we were in Russia.

We set off for Moscow via Vyborg and St. Petersburg. To help smoothe our way, arrangements had been made for officials from the Korean embassy in Moscow to accompany us from the moment we crossed the Russian border. The roads were pretty bad and there were frequent police road blocks with checks on our personal and vehicle documents. We had to concentrate hard to avoid the many potholes and uncovered manholes in the towns we passed through. We also needed to have our wits about us in the heavy traffic which was completely chaotic as no-one had any regard for road signs. That evening we stayed at the Intourist hotel at Novogorod, a cold, impersonal place but comfortable enough and we all had a good night's sleep. We had in fact been on the road for nineteen and a quarter hours since leaving the lorry park but had covered a mere 425 kms !!!.

We spent very little time in Novogorod as we had to be in Moscow the next day to load our vehicles on to the trans-Siberian freight train. Although we were only 500 kms from our destination, given the state of the roads and possible police checks, we decided to leave at 1.30 am and allow ourselves plenty of time.

Once in Moscow there were many hours of wrangling and negotiations to get our vehicles to the station and ourselves to our hotel.

After this had been sorted out, we were able to relax in our very comfortable hotel, forget the fatigue of the previous days and do some sight-seeing around Moscow. The embassy had drawn up a programme for us and the Ambassador gave a reception in our honour - a very jovial occasion and a welcome interlude in our travels. We had covered over 3,000 kms overland plus two sea crossings in the ten days since leaving Brussels but we still had a 9,000 km train journey ahead of us.

The journey between Moscow and Vladivostok on the trans-Siberian normally takes a week but our vehicles would be en route for three weeks. So it had been decided that we should also take three weeks to cross Russia and do the journey in five stages. At each stop-over, we would be taken in charge by groups of Koreans who would show us around. After spending hours on a jolting train, we would also have a chance to catch up on our sleep and make use of better sanitary facilities.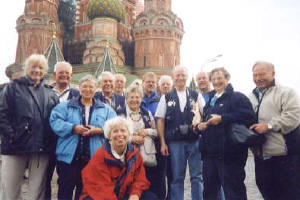 As we left Moscow, our train passed through industrial suburbs but soon we were out in the country, travelling past small, poor-looking villages, birch forests and lakes many of which were still frozen. Twenty four hours later we arrived at the town of Ekaterinenburg which is very close to the symbolic frontier between Asia and Europe. Here we were welcomed by French and English-speaking Russian students along with their Korean university professors. They were our guides and organised our sight-seeing tour of their town. It was a very enjoyable break and they were a very friendly and jolly crowd.

Our journey continued to Novosibirsk and Irkutsk on the shores of Lake Baikal. The lake was still frozen for the most part and we crossed vast tracts of marshland as we approached Novosibirsk. Beyond the town the marshes gave way to gentle, undulating countryside dotted with gaily painted houses. Towns were lively and bustling with people, the weather was fine and we were happy to discover this very attractive side of Siberia.

The longest stretch (60 hrs) was between Irkutsk and Khabarovsk. The countryside changed again with beautiful meadows, greenery and flowers. The region became more densely populated the further east we travelled and we caught glimpses of orchards and vegetable plots. By now we were travelling alongside the Chinese border and every bridge and tunnel had look-out towers manned by armed guards. We crossed another symbolic frontier as we entered the Far East. The weather had turned quite hot which made the long hours in the train very tiring and we were growing impatient for a bit of peace and quiet and a jolly good shower ! ! As we approached Chabarovsk we crossed the longest bridge on the trans-Siberian route which spanned the beautiful Amour River.

As we headed towards Vladivostok, the railway track ran alongside the Oussouri River passing alternately through hilly country and wide open plains with wild vines, spiky palm trees and cedar-covered hillsides.

Vladivostok is not a particularly beautiful city. It used to be a military stronghold, closed even to Russians until 1986. The buildings resembled barracks, generally dull grey and in a poor state of repair. The roads were dirty and the people rather unfriendly, still affected, it would seem, by their long years of isolation. It was here that we were to reclaim our outfits but we were in for a nasty surprise : although all of the vehicles had turned up, there were only two caravans ! Two were apparently stuck in Irkutsk and the others had simply disappeared into thin air.

As our visas were about to expire, our guides decided we should move on and not wait for the other caravans. It still took us several hours to negotiate the return of our vehicles and it was 9 pm before we were able to set off in the direction of Zarubino to catch the ferry to Korea. (Vladivostok's port has no freight facilities). We had 200 kms to cover and again were given a police escort. The road was surprisingly good for a few kilometres as we left the city, but then it turned into a dusty track, dotted with large rocks and innumerable potholes. Now we understood why we had a police escort ! Road signs were few and far between and the ones we came across were illegible. Our vehicle convoy travelling at 80 km/h raised so much dust that we could not see the car in front and had to rely on its rear lights to indicate the twists and turns, steep gradients, and sharp corners which marked our route.

After 4 hours of manic driving, we stopped in a little village to rest for a couple of hours. Four of our number agreed to take the only two rooms in what passed for a hotel but which was quite obviously nothing more than a converted block of flats. Everyone else preferred to sleep in their vehicles. The next morning we had a good hour's drive over mountainous terrain. It was daylight of course and, as we could see the condition of the roads, we reduced our speed accordingly !

We lost count of the hours we had to wait at the port, but we were finally allowed to board the ferry for our 17 hour crossing to Sotcho in Korea.

We arrived in beautiful weather and our convoy drove to Donghae behind a police motorcyclist, lights blazing and siren blaring, and paying little heed to road signs !

We stopped briefly at the Town Hall where the local authorities had organised a small reception in our honour. It was raining - the first rain we had seen in a long time. But the weather cleared by the time we arrived at the Club House at the rally site. Here we were at last ! !

We covered over 13,000 kms, and travelled by nearly every means of road, rail and sea transport. We ourselves were privileged to live through an extraordinary adventure with a great, good-humoured, supportive group of diverse individuals and had discovered a tremendous variety of landscapes, places, lifestyles and wonderful people. A truly memorable experience !

Paris, July 2002