Daigo Green Villa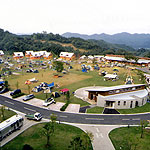 With Great Camping and Sports Facilities, Friendly to Beginners and Family Campers
Located in the town of Daigo, which is famous for Fukuroda Falls, one of Japan's three most powerful waterfalls, this high-standard public campsite built in a huge park has great sports facilities including a swimming pool, tennis court, and multi-purpose space. There is a special service that let beginner campers come and enjoy without bringing any camping equipment. With the variety in types of sites, Daigo Green Villa provides fun to experienced campers as well. Its fully-equipped cabins and trailers guarantee comfortable camping during winter.
Address
15-1 Yada, Daigo-machi, Kuji-gun, Ibaraki
TEL
+81-2957-9-0031247
Access
Approx. 60 minutes from Naka Interchange on Joban Expressway via National Route 118
Capacity
50 camping car spaces, 27 tent spaces, 18 accommodation structures* (with modern restrooms, baths, beds, air conditioners, kitchens, refrigerators, cookware, tableware, TV; See below for more information)
Geography
Mountains (altitude: 500 m or below)
Rate**
5,250 yen (CIC holders discount available)
Open season
All year
Campsite amenities
Modern restrooms, hot showers, cookhouses with hot water supply, baths, electric hookups, laundry facilities, restaurant, dump station, camping equipment rental service, wheelchair-accessible restrooms, wheelchair-accessible showers, ramps for wheelchair access, wheelchair-accessible tent sites, wheelchair-accessible cookhouses Recreational activities Great sports facilities in the park including a tennis court, multi-purpose space, athletic field, and play equipment. Hot springs "Fureai-no-yu" also in the park. Fifteen-minute drive to Fukuroda Falls, a four-stage waterfall and one of Japanfs three most powerful waterfalls.
Recreational activities
A playlot and a shallow-water pond available within the campsite. Mountain bike trails in the park.
Accommodation Information
Villa-like Cabins and an Airstream Trailer Visitors without any camping equipment can stay at these villa-like wooden cabins and an Airstream trailer imported from the U.S. Complete with air-conditioning system, a comfortable stay is provided all year.
Cabin for 4 guests (6 structures available) 16,800 yen
Cabin for 8 guests (9 structures available) 25,200 yen
Trailer for 4 guests (3 structures available)18,900 yen

Note:
* The term "accommodation structure" includes cottages, cabins, bungalows, and trailer houses.
** This rate is for camping in a tent on a Saturday during non-vacation period.