The 5th International Camping Congress
Creating a New Camping Culture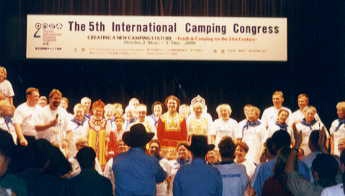 The 5th International Camping Congress took place at the National Youth Center in Tokyo, Japan from October 2 to 5,2000, organized by International Camping Fellowship, an organization of educational camping for the youth. Mr.Lars Dahlberg, President of F.I.C.C., attended the congress and gave a lecture in a special session titled "Past, Present and Future of the Camping". In a symposium Mr.Morio Chen gave a talk on the history of the camping in Taiwan. Also Mr.Yasuo Kurashina, Secretary General of Japan Autocamping Federation, presented his case study "The Snow Cave". Among other exhibition booths, F.I.C.C. had its own to distribute publicity handouts. Here at the corner, foreign women could be dressed up in Japanese Kimono and taken a picture.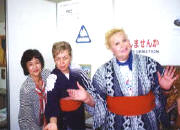 Description
Date:Monday, October 2 - Thursday, October 5, 2000
Place:National Youth Center, Shibuya, Tokyo, Japan
Host Organizations:
International Camping Fellowship (ICF)
5th International Camping Congress Organizing Committee National Youth Center (NYC)
National Camping Association of Japan,Inc. (NCAJ)

Massage from Jack Pearse(ICF Chair)
"Bringing Together a World of Outdoor Experience"
Picture the world with a rainbow of peace, arching in splendour above it. Each colour and hue blending perfectly true, surely we can't help but love it. So what should we do to be sure in each land that the rainbow of peace keeps on growing?
The richer we'll be if we walk hand in hand, while our love and our friendships keep growing. And when we give our hearts to others, when we start to do our share, when we're sisters and we're brothers, then we'll know we really care "for the children."
These few lines from a camp song exemplify the essence of the 5th International Camping Congress. By "bringing together a world of outdoor experience", we strive to "create a new camping culture"so that youth, everywhere, may be enabled to live more harmoniously with each other and with the land.