Construction Plan of a Suburb-type Auto-Camping Site in a Provincial City Area
From a plan of Matto C.C.Z. (Coastal Community Zone) auto-camping site

Minoru Yamamoto

Working Group "Camp Site"
Japan Auto Camping Federation
An auto-camping site which is based on principal ideas of sustainable ecology and barrier-free space
An auto-camping site which is small-sized but operational and manageable
An auto-camping site which relates and depends on the existing facilities
An auto-camping site which is designed to be considerate to offer public services to the neighborhood community

Preface
Currently, the population of auto-campers in Japan is estimated to be more than 15 millions. It means that one out of every 10 people in the country thinks auto-camping is one of their outdoor leisure activities. An auto-camping site has been playing more and more important role as a relaxing place for neighbors in the local community, as a place of overnight accommodation for passing-by campers, and as an activity base for a long-term staying auto-campers.

Therefore, it is a responsibility of a local society to produce such a small city suburb-type auto-camping site for those campers who desire to live with the nature.

Such a camping site should also be considered as a place where people learn about nature protection, natural energy utilization and necessity of the recycling movement.
Construction plan and current situation of Matto C.C.Z. (Coastal Community Zone)
To meet the demands and needs from the public who enjoys the diversity of leisure activities, Matto C.C.Z. has been developed jointly by the Ministry of Construction, the Ishikawa Prefecture Government, the Japan Highway Construction Company, Matto City Government and "the third sector", that is a joint venture of a local government and private company in a very close and preferable relationship. The zone is spread in a coastal area of approx. 50 square kilometers including the existing Matto Coastal Park area as its main part.

The Coastal Park has a free access directly from the Tokumitsu Service Area of Hokuriku Expressway. It enables the park to offer a variety of scenic attractions including a hot spring spa, recreation facility. By having involved the powerful eagerness of the private sectors in the project, an year-round type sightseeing complex (Coastal Oasis Matto Shayukan) has completed which has merchandise stores, restaurants and other leisure attractions managed by the third sector as its core part.

Moreover, construction of a man-made island in the area and an over-expressway crossing bridge has been in progress.
Access to the Auto-camping site and its location
6 hours from Tokyo and 3 hours from Nagoya and Osaka by Hokuriku Express-way
Potential activity-base for passing-by campers heading for Noto Peninsula, Fukui Prefecture, Toyama Prefecture and Gifu Prefecture


3 hours to the northernmost point of Noto Peninsula (Suzu City)
3 hours to the western part of Fukui Prefecture (Tsuruga City)
3.5 hours to Gifu Prefecture and the Northwest part of Toyama Prefecture (Hida/Takayama region)

It is located in the center of Ishikawa Prefecture, which is ideal as a long term stay-type auto-camping site. It can be an activity-base of a day trip to various sightseeing places in Ishikawa Prefecture along the Hokuriku Expressway.
Characteristics of the Auto-camping site located within Matto C.C.Z. Promotional Features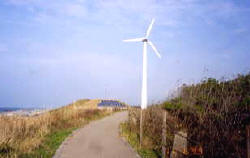 The white tower of windmill of the wind power plant, standing on the Japan Sea coastline, can be a symbolic monument for the auto-camping project
Various facilities of the coastal park have already been fully equipped and usable for campers
A cycling terminal is available adjacent to the site and campers can enjoy the facility. Sightseeing complex (Coastal Oasis Matto Shayukan) is in operation and campers can purchase food and daily products from the stores there.
A man-made island will provide the opportunity for various activities including fishing and other coastal playing.
By maintaining an experimental chemical-free farm and an experience farm, the camping site can provide people with an opportunity to learn about the principals ideas of the project, which are sustainable, barrier-free and ecological camping.
The public services to the neighborhood community
A day camping (a one-day picnic by a car) Currently, there are large multi-purpose parks in the center and in the southern part of the city. However, people cannot drive into the places. Many families are camping on a river-course, but water supply and toilets are not available there and such place can be sometimes dangerous. Once the projected camping site in the coastal park is completed, it can be a place for a safe and comfortable day camping. All kinds of people from small children to the elderly citizens can enjoy a day camping by using the various facilities in the site and the surrounding area.

It can be an enjoyable place for a weekend camping by using the facilities in the site and the surrounding area.

There should be fewer damages by snowfall because of its coastal location. With a camping car and by using a lodge for accommodation the auto-camping site can be operational year-round.
Having principal ideas of sustainable, ecological and barrier-free space
To enjoy the outdoor life
To live with natural environment
To make a community without barriers
To preserve natural environment
To protect the life system of the area
To save energy and recycle resources
The projected auto-camping site will be operated and managed with the prudent understanding of those principal ideas.
Construction
Control of cutting down and planting of trees
Harmony with surrounding environment
Durability of architecture
Control of a toxic substance
Utilization of natural energy
Self-sufficient energy supply
Non water-blocking pavement
Recycle function
Operational Management
Introduction of "Compost" and "Compost Toilet", which completely turn food garbage, feces and urine into fertilizer by a microorganism.
Control of destruction of natural environment and life system by automobiles (exhaust gas, noise and brightness of headlight)
An idea of taking garbage back home
Complete separation of garbage (burnable, non-burnable, glasses, etc.)
No disposable products
Self-control of limitation of use of over-wrapping products No fire direct on the ground
Water saving for cooking, toilet, hand and facial washing and shower
No synthetic detergent
Planting of Kenaf
Kenaf is a one-year cycle plant which seeds are planted in springtime and flowered in summer, and it grows up to 3-5 meters high in autumn. As Kenaf absorbs much carbon dioxide in the air, it is believed to be effective for controlling the warming phenomenon of the earth temperature. Since the plant also has a very good absorbing efficiency of nitrogen and phosphorus in water, it is very effective to purify the water, too. Kenaf is now attracted by many people, as it can also be a good row material of charcoal, paper and food which can help environment protection.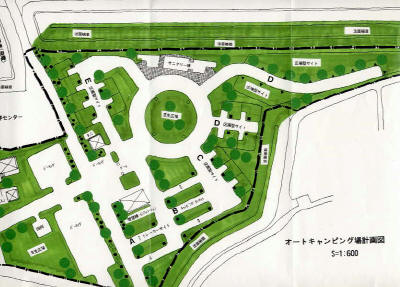 January 2000 (Asia-Pacific News No.5)
Construction Plan of a Suburb-type Auto-Camping Site